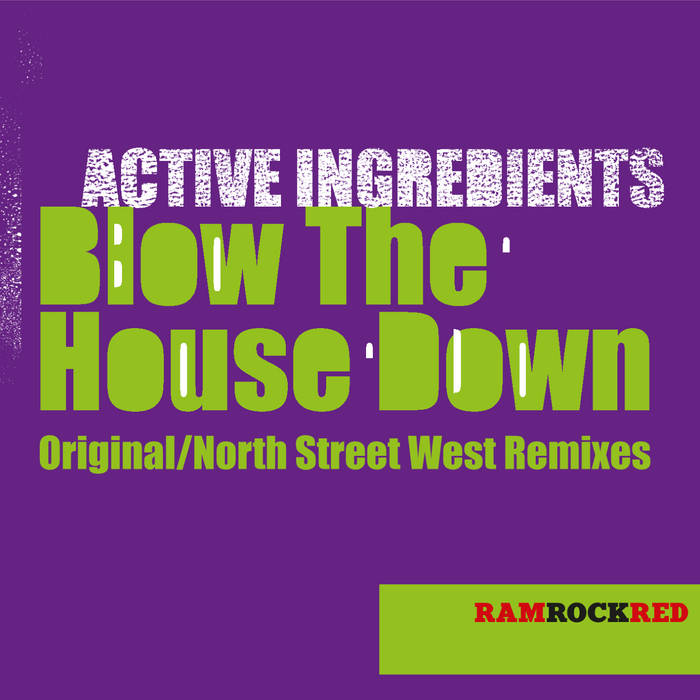 Ramrock Red Records are incredibly proud to present the fabulous new release 'Blow the House Down' by Active Ingredients a.k.a the prodigious Antipodean beatsmith, Inkswel and his partner in rhymes, the formidable Atlanta emcee, Stan Smith. Their new 7 track EP gets the party started from the get-go. The original version has Stan bouncing his flow over the beats, giving the track Sugarhill vibes mixed in with that classic NY hip hop sound from back in the day with a sprinkling of Atlanta Funk and an incessant rhythm. The North Street West Crew's production nods towards a Philadelphia groove, with a smattering of inspiration from Pete Rock, Cold Crush Brothers and the Jungle Brothers as well as your very own label mistress Jo, aka Lady Kaos, elbowing her way onto backing vocals.
Ahead of the EP we ask them a few questions..
Please introduce yourself to our readers.
Inkswel aka Jules Habib – one half of Active Ingredients with the mighty Stan Smith  
Where are you from, where are you now?
Adelaide Australia… back there now due to COVID but have spent the last ten years living in Melbourne, Amsterdam, Gold Coast, Berlin, London and beyond. 
What are you up to today?
Working on a guest DJ mix and finishing the final mixes for my new album coming next year and the debut album from Neo Soul vocalist Erin Buku. 
Talk us through your new release a little.
Me and Stan initially linked in 2019 via our mutual friend Daz-I-kue, of Bugz in the Attic, and we formed like Voltron as Active Ingredients. Our first EP was on French label, Cosmocities and we have since worked on a lot of music together. This jam came about around the same time as the initial one, but we sat on it until we found the right home for it with Jo Wallace's Ramrock Records!
Is there a process of production that you follow when making a new track?
I usually pick a stack of records to listen to. I start with inspiration, and this usually connects me to the Universe's vibrations. The process from there is something divine and beyond this ether. I just let it flow.  
Who would you love to see playing this music?
Anyone who listens for the love ..
Where is the best place to listen to it?
Digital services … and Bandcamp  
What was the last piece of music that you bought?
Re issue of 'Madvillain' (RIP DOOM) from my friends store, Cold Krush Records, and Hiatus Kaiyote 'Get Sun' single on Brainfeeder Records. 
If someone wanted to get to know your taste, what album should they listen to?
Platinum Pied Pipers – Triple P Wajeed is an absolute don! Or DJ SPINNA – intergalactic soul.
What advice would you give to other producers in the studio?
Know your approach inside out – what you use is irrelevant. Your intention and vibration is what matters.  
What have you got the pipeline?
New album start of 2022, lots of remixes and production for other vocalists and rappers.. And loads more!
Inkswel is an eclectic DJ, producer and tastemaker with a long and extensive history of blending the boundaries of genre with a strong B-Boy foundation and forever evolving outlook. He has recently launched his own label, Inner Tribe Records, released his second album on Atjazz Records as well as a boogie EP for Kraak and Smaak's label, Boogie Angst. Plus, there are several forthcoming Active Ingredients projects in his collaborative musical pipeline.
Stan "Steam" Smith has earnt an international reputation as a versatile emcee, having worked with the likes of Daz-I-Kue, Soulparlor and Rahgroove on their Tokyo Dawn Records release "Get Up Movement" and recently showcased his superb mike techniques on Japanese beat maker MFP's "Busy Work" and he is constantly in the studio.
Releases November 26, 2021 – Bandcamp here or via player above…